Easy Card Kit Packages
Looking Up Card Kit
Found in the New Customer Brochure Collection
Create beautiful all-occasion cards in minutes using the Looking Up Card Kit. Perfect for new crafters, busy crafters, or crafters on the go. Makes 15 cards; folded card size: 4" x 6" (10.2 x 15.2 cm). Kit includes the Looking Up Stamp Set. Complete using your choice of adhesive.
Whether your an avid stamper or just a beginner, this kit is full of color and great cards. I have it on my wish list to order in the coming week! And it is also great if you want to share your love of stamping cards with a friend who might be a beginner, or not sure if they would like it too. But you and I know, once they try it, they will love it as much as we do.
I'm not sure which card design I like the best, but those balloons and the airplane are calling to me. I also think the palm trees and building scape could work for a couple of guy cards I need send.
All that is included: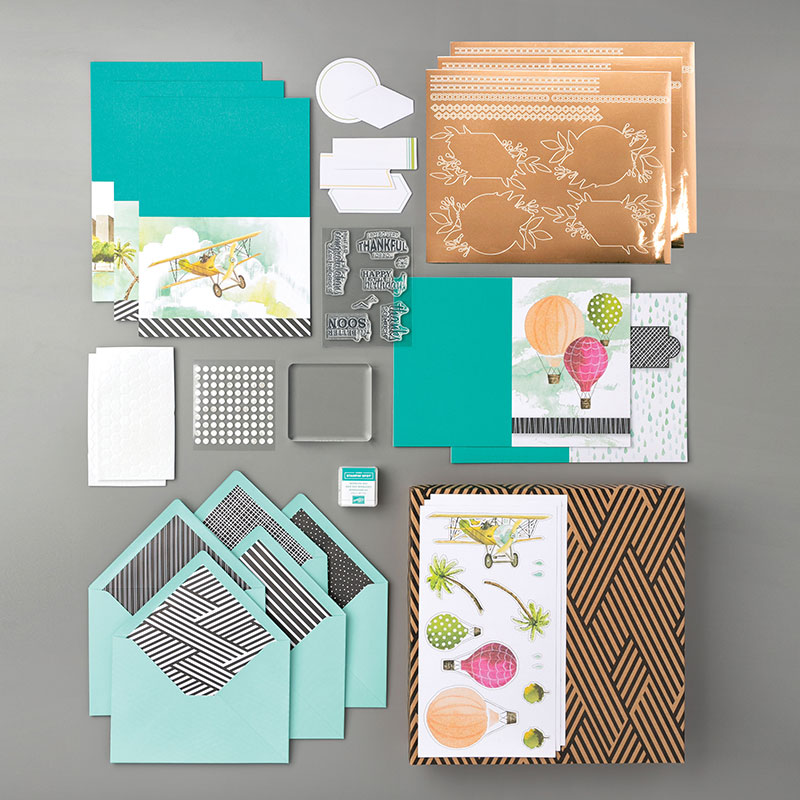 Kit includes:
Set of 7 photopolymer stamps and a clear acrylic block
15 card bases: 3 each of 5 designs 
15 printed envelopes
Ink spot and embellishments
Coordinating Colors:
If you are shopping online, and your order is under $150, please use the host code. As a thank you, I will send you a hand-stamped card! Plus you will be invited to join my Exclusive Customer Group on Facebook! & have access to all my shared tutorials.
Current Online Host Code
WD274AGH
If your order is greater than $150, omit the code, and enjoy your Stampin Reward Dollars. ALL shoppers are entered in the end of the month drawing.
Looking Up Card Kit Item 149651 Price $27.00
Did you enjoy today's article on the blog? Would you like treat your creative self to more stampin' projects I share? Be sure to subscribe on the home page of the website. Each time I post an article… you will get an email directly delivered to you.