Easy Card Kit Packages
Found in the New Customer Brochure Collection
Create beautiful all-occasion cards in minutes using the Looking Up Card Kit. Perfect for new crafters, busy crafters, or crafters on the go. Makes 15 cards; folded card size: 4" x 6" (10.2 x 15.2 cm). Kit includes the Looking Up Stamp Set. Complete using your choice of adhesive.
Whether your an avid stamper or just a beginner, this kit is full of color and great cards. I have it on my wish list to order in the coming week! And it is also great if you want to share your love of stamping cards with a friend who might be a beginner, or not sure if they would like it too. But you and I know, once they try it, they will love it as much as we do.
I'm not sure which card design I like the best, but those balloons and the airplane are calling to me. I also think the palm trees and building scape could work for a couple of guy cards I need send.
All that is included: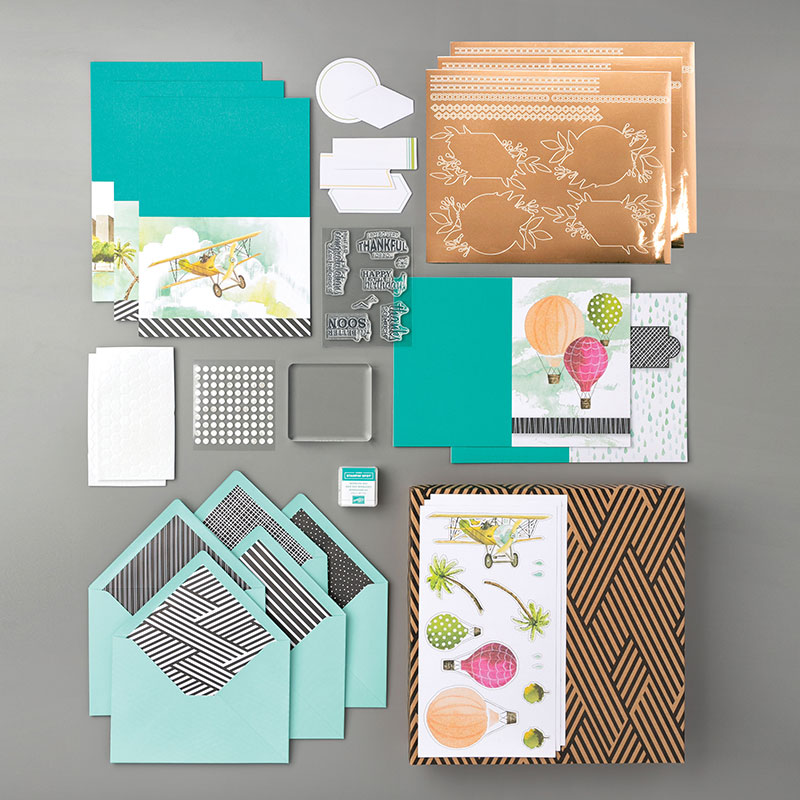 Kit includes:
* Set of 7 photopolymer stamps and a clear acrylic block
* 15 card bases: 3 each of 5 designs
* 15 printed envelopes
* Ink spot and embellishments
Coordinating Colors:
Online Host Code – DXXWP324
This helps me, pool host rewards from smaller orders and support me.
All shoppers are entered into the FREE SHIPPING drawing, at the end of each month!
If your order is greater than $150, omit the code, and enjoy your Stampin Reward Dollars. ALL shoppers are entered in the end of the month drawing.
Looking Up Card Kit Item 149651 Price $27.00