Available for purchase November 1st
The new Stampin' Up! Paper Trimmer will now be available for purchase to all customers in the USA on November 1st, 2019. Demonstrators had an early order opportunity, and have been just raving about this new paper cutter. How well it cuts, and the fact that the blades just keep going, and going, and going! And you know as a demo who preps for classes and events, we cut a lot of cardstock.
Paper Trimmer Details
Information you might what to know about the trimmer. Here are some key features:
15-3/8 x 8 x 1/2" (39 x 20.3 x 1.3 cm)
Includes 1 cutting blade and 1 scoring blade.
Includes imperial and metric measurements.
Ruler and grid protected by durable plastic cover.
Point on cutting handle for precise measuring.
Right-side grid for cutting thin strips.
Purchase yours on Friday!
If your order is under $150… enter the Online Host Code in the shopping cart screen of the online store.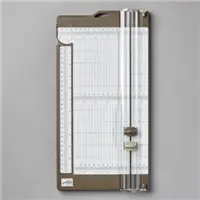 As you can read above the trimmer comes with one cutting blade and one scoring blade with the purchase of the trimmer. The replacement blades will become available in January of 2020. Once Stampin' Up! has stocked up the warehouse to try and ensure there will be plenty on hand to fill orders.